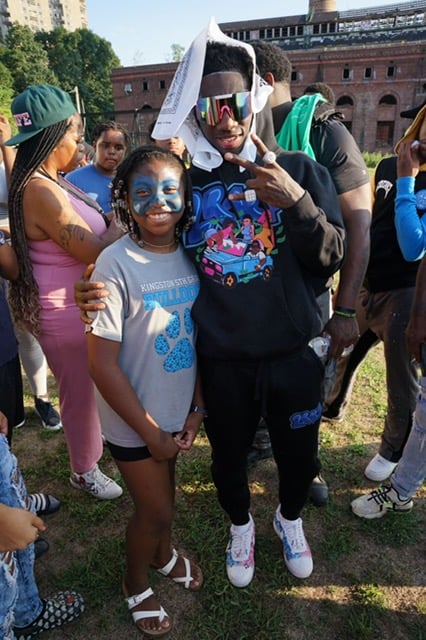 Uplife Foundation Inc. hosted the 4th Annual Back to School Barbecue and Giveaway on Sunday 28 August 2022 at John F. Kennedy Marina. Yonkers. In one of the most significant school givebacks of the area, Yonkers and Bronx businesses joined forces to donate hundreds of school supplies. Book bags, laptops as well as food were donated by local businesses.
Free performances by Kenstarr and 2Rare were also part of the event. It was an example of how artists truly care about young people, regardless their music genre. The performances were enjoyed by all age groups. There was also a bounce house and a tank for dunking.
Uplife Foundation Inc. is open to entertainers and musicians who want to share their skills and create lasting memories. It's a different time to go back to school in 2022. Uplife Foundation Inc. is made up of leaders from the community who want to go beyond helping children. Uplife  understands that in order to make a difference you have to relate to the youth. Members of Uplife can help young people understand and relate to the value and importance of education and success in their lives. Uplife was able to host the Yonkers event thanks to partners Lakisha Collins-Bellamy, City Council President and Christopher Johnson, County Legislator. It allows us to keep inspiring young people.
Uplife Foundation Inc. is a Yonkers-based nonprofit that works to strengthen, unify, and build up urban communities. The organization was founded by a group of young black men. They are determined to become the role models they wish to see in their local communities. For those wanting to go back to work, the organization offers workshops and job readiness training. Its members are often involved in the construction industry, and this is why its motto lives on. "Constructing the community."
Reginald Joseph (the co-founder) and Robert Salkey (the owner of Cafe 2.0 in Yonkers), feel great about achieving exactly what was set for them when they started it. "When we say constructing the community we are talking about leaning into urban neighborhoods and providing access to jobs, and resources needed to live a decent life," says Reginald. Robert adds "  It's all about constructing, building , and connecting the dots for families who need it. That's what this annual event does and we are blessed to be able to host it for a 4th year, here in Yonkers.
Follow @uplifefoundationinc and visit www.uplifefoundationinc for more information
Related topic:
best bbq st louis, butane camp stove, Preparing outdoor barbecues, outdoor bbq prep tables, Grilling small tables, Preparing outdoor barbecues, best korean bbq grill, Eight korean bbq, stove drip pans, best springform pan, Top-of-the-table grills, dae gee korean bbq, best restaurant stocks, Buffet menu for wood grill, Wood stoves that can be wall-mounted, You can eat korean bbq anywhere in me, Restaurants that specialize in restoration hardware, cast iron griddle grill,
Source Link